Psychology and Psychotherapy
Psychology is the study of human thought, behavior, and its evolution in our lives. Often known as "Psychotherapy", it can be conducted by therapists and counselors in addition to psychologists. The ultimate aim in psychology is to help patients achieve better mental health through safe, confidential conversations.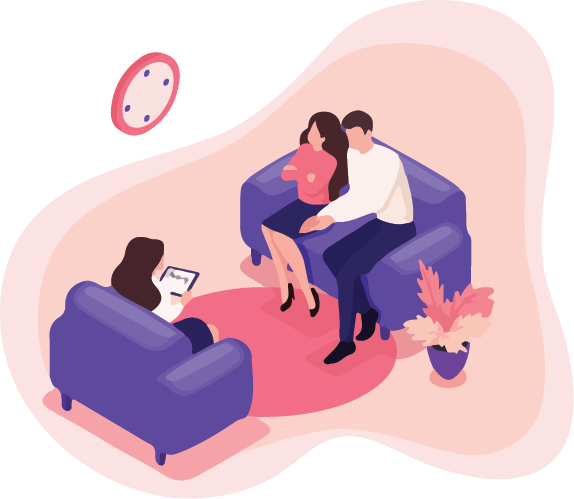 In the field of psychological counseling, psychologists use clinically validated methods to help patients develop healthy, more successful behaviors. During a therapy session, patients hear about their moods, emotions, perceptions and behaviors.
Beyond mental health and emotional issues, psychology has been shown to assist with family disputes, marital difficulties, parenting, learning challenges, and more.
Often 
people 
turn 
to 
counseling 
for 
good 
reasons, 
such 
as 
having 
social 
support, 
getting 
an 
impartial 
view 
on 
the 
problem, 
or 
learning 
interpersonal 
skills, 
and 
more.
Cognitive Behavioral Therapy (CBT)
Cognitive 
behavioral 
therapy 
(
CBT)
is 
a 
talk 
therapy 
that 
can 
help 
you 
overcome 
your 
issues by replacing the ill-adapted habit of thought with a better way of thinking and action.
It is most widely used to treat depression and anxiety, although it can be useful for many other mental and physical health issues.
CBT is based on the premise that your experience, feelings , ideas, emotions contribute to actions and thus to consequences. Every time this loop is done, it affects you with positive or negative effects. CBT helps you to fix this by constructive and rational thought and attitude.
Rather than struggling with past issues, it lets you cope with present challenges with a constructive attitude and resolve challenging circumstances, problems at hand and other life difficulties.
Cognitive Behavioral Therapy (CBT) is a prescribed program with clear tasks and targets and involves dedication and continuity in order to achieve the desired results. It lets you discover a realistic way to improve your state of mind to cope affectively with day-to-day issues.
Rania Salem – The Best Clinical Psychologist in Dubai for psychotherapy, anxiety therapy session, depression counseling and cognitive behavioral therapy (CBT)
Rania is an expert anxiety therapist as well as a child therapist, but her expertise in CBT allows her to provide her clients with the following services
* Mild to severe mental illnesses
* Stress reaction and adjustment disorders
* Post-traumatic stress disorders
* Anxiety and panic disorder
* Social anxiety Therapy
* Separation anxiety Therapy
* Obsessive compulsive disorders
* Depression Counseling
* Schizophrenia
* Bipolar disorders
* Borderline personality disorders
* Impulse Control disorders
* Self esteem
* Grief, loss and traumatic bereavement
* Emotional and sexual abuse
* Substance abuse
* Gambling and technology addiction
* Sex addiction and pornography
* Gender and identity issues
* Self image issues
* Avoidant/restrictive food intake disorders
* Family conflicts, domestic violence
* Fear of commitment, jealousy and infidelity issues
* Marital separation, divorce and relocation
Psychology of Emergency
* Human behavior in emergency situations
* Psychosocial support for participants in disaster relief operations
(air-crushes, train collisions after derailments, bridge and tunnel collapses, cruise and naval accidents at sea, buildings in in fire, earthquakes, flooding and other natural disasters)
* Psychosocial support after surviving from death due to crushes whilst close one could not make it.
* Psychosocial support for members of police or fire services affected by traumatic episodes
* Psychosocial support for people exposed to explosions or victims of terrorism or wars
* Post traumatic stress disorder
Industrial and Organizational Psychology
* Providing businesses support in hiring right profile candidates according their specific requirements
* Identify training and development needs
* Formulate and implement training programs and evaluate their effectiveness
* Developing motivational training
* Develop criteria to evaluate performance of individuals and organizations
* Assess job performance
* Improve organizational structure
* Design and optimize job vacancies and job designations
* Increase business efficiency
* Assess employee's satisfaction
* Assess quality of work life;
* Improve quality of life for employees
* Therapy to improve quality of life for employers
There are several forms of psychotherapy, each of which has its own approach. The form of psychotherapy that is best for you depends on your particular case. Call our expert Rania Salem from the PISIQ's Psychotherapy Team to help you find out which therapy will be needed to support you. Your phone calls are confidential.
Rania's Contact Details: